Our Spa Treatments
Prescriptive skin care Treatment (60 min) - £45
Our skin treatments are fully inclusive to deliver your skin's best health, and involve a combination of a professional double cleanse under steam, exfoliation to reveal smooth glowing skin, extractions (as needed ). A revitalising masque, followed by a toner and nutrient rich moisturiser will hydrate, protect and help restore the natural balance of the skin. A face, neck and shoulder massage will ease the mind and spirit.
Microzone Treatment (30 min) - £20-25
Our expert skin therapist analyze your skin and perform treatment designed to solve your skin problem in about 30min. We offer: "MicroZone flash exfoliation *MicroZone Blackhead relief *MicroZone Eye rescure *MicroZone rapid spot clearing *MicroZone lip renewal *MicroZone Men's skin fitness.
Galvanic & high frequency facial (60min) - £50
This treatment will leave your skin radiant, smoother and younger looking with a healthy looking glow. Diamond Microdermabrasion, Microdermabrasion is offered by professionals and can be a fast remedy for many kinds of skin conditions from sun damaged skin, cellulite, stretch marks, textured skin, acne, spots and many other types of skin conditions. Whether you're concerned about fine lines and wrinkles or have more youthful skin problems such as acne, this is a treatment that can help.
Diamond Microdermabrasion (60min) - £50
As far as exfoliation methods go, diamond microdermabrasion is among the best you can find. By removing dead skin cells quickly, you'll revive a dull-looking complexion and also help prevent other types of skin issues such as clogged pores. Once free of old, dull skin, your complexion will return to a clear and glowing one as new skin develops and shines through. Microdermabrasion - bright eyes (30min) - 20 An ideal treatments to lift, smooth & hydrate the fine delicate skin around the eyes creating a look that is noticeably younger & fresher.
Deluxe Spa Manicure (60 min) - £25
Experience a manicure like no other. You can
choice from chocolate or raspberry treatments
and next sealed with paraffin, instantly
improving elasticity and softness.
Mini manicure (30min) - £15
Deluxe Spa Pedicure (60 min) - £40
Treat your toes to a soothing and relaxing spa pedicure. You'll enjoy an invigorating foot and leg massage, exfoliation, loofah scrub and a warm paraffin treatment. Our massaging chair creates the ultimate pedicure experience. Mini pedicure - £18
Head and Scalp massage with Acupressure (30 min) - £20
Helps with headaches and aids relaxation, relieves sinus pressure and swelling and tones facial muscles. Pressure points aid toxin removal and reduce hormonal imbalance and calming the spirit.
Deep tissue back massage (30 min) - £25
Swedish back massage (30 min) - £25
Hot stone back massage (30 min) -£30
Full body aromatherapy massage (60min) - £40
Full body hot stone massage (60min) -£45
The Ultimate freestyle massage (90min) - £55
Full Head Massage (15 min ) - £15
Gellaco 14 days nail polish
Nails - £25 or toes - £20
Calm&Relax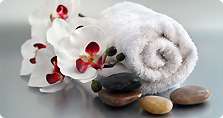 Our treatments are 100% customised to your skin's needs with a thorough, zone by zone face mapping skin analysis, making it one treatment that's different every time!